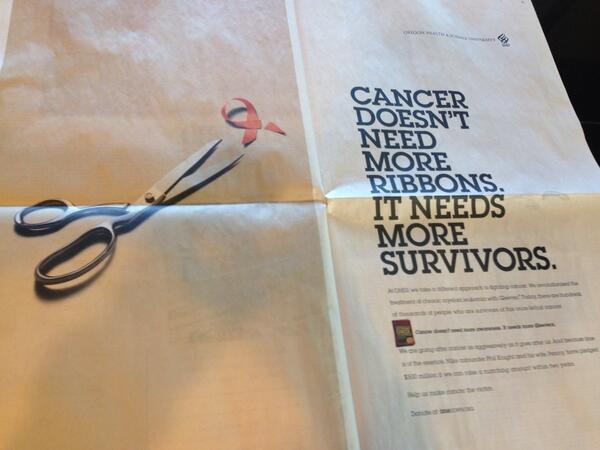 This ad was placed today, Jun 8th, in The New York Times by the Knight Cancer Institute, Oregon Health & Science University to celebrate National Cancer Survivors' Day.
In 1986, my mother was diagnosed with breast cancer days before her 51st birthday. She died just 50 days later. For my birthday in Sep 2011, my son took me to the TIFF premiere of "Pink Ribbons, Inc." The documentary is based on the book, Pink Ribbons, Inc.: Breast Cancer and the Politics of Philanthropy by Queen's University professor, Dr. Samantha King. Pink Ribbons, Inc. is a feature documentary from the National Film Board of Canada that shows how the devastating reality of breast cancer, which marketing experts have labeled a "dream cause," has become obfuscated by a shiny, pink story of success." The dedication of Barbara Brenner and the work of Breast Cancer Action has completely changed my perspective on the pink ribbon campaign. 
BCA Free Webinar: Breast Cancer and the Environment: The Growing Evidence …
The Guardian | Karuna Jaggar | Apr 28, 2014
It is time to radically re-think the flawed philosophy behind the 'early detection' tenet of the breast cancer awareness movement.
…This month, the New England Journal of Medicine published a strongly-worded perspective from the Swiss Medical Board concluding that mammography screening is "hard to justify". It followed the February publication of the largest study on mammography to date in the British Medical Journal, which reported that screening healthy women with mammography to find breast cancers – before they could be felt as a lump in the breast – did not lead to lower death rates for average-risk women in their 40s and 50s.
In calculating the role of population-based screening, the absence of benefit is only compounded by evidence of harm: 21.9% of breast cancers found through mammography screening represented over-diagnosis, according to the Swiss Medical Board. This means that one in five women who was told she had breast cancer after mammography screening received unnecessary treatment. The implication of these results is that tens of thousands of women in the US each year undergo surgery, radiation and chemotherapy for non-life threatening cancers.
Why, then, do mainstream cancer organizations, like American Cancer Society and Komen, continue to promise that "early detection saves lives"? Their mantra has not changed despite the increasing certainty that such claims are inflated and imbalanced …
——————————————————-
National Cancer Survivors Day, June 1st from Canada's Minister of Health, The Honourable Rona Ambrose: National Cancer Survivors Day, which takes place each year on the first Sunday of June, is a celebration of life. Statistics tell us that there are over 800,000 Canadians living now that had cancer in the past 10 years. Moreover, some 63% of Canadians diagnosed with cancer will survive at least five years after their diagnosis …